Welcome to The Wednesday Roundup #57! We are glad you're with us! Now that all the holiday hype is behind up, its time to get back into the groove and resume "normal life". Have you tasked yourself with any big changes for the New Year? I didn't make any resolutions, but I did choose a "word of the year" for myself. My word is proactive. I have also chosen to leave a word behind in 2014 and that is procrastinate. I know its only been 7 days, but so far, so good! If you have chosen a word for this year, I'd love to know in the comments! If this is your first time with us, please leave a comment and let me know so I may personally welcome you! So if you have a new link to share please enter it below, and if you don't, check out some of the awesome links others have left. And as always, please remember to follow your hosts! Have a great week everyone!
Our most clicked post from last week was:
#120 Natural Flu & Cold Remedies: DIY Elderberry Syrup
from Chrystal at Happy Mothering
Facebook | Pinterest | Twitter | Google+ | Instagram
HERE
If you've been featured, make sure to grab a button to show off!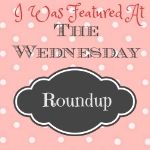 Here are our fabulous co-hosts for the Roundup!
Britney @ The Princess & Her Cowboys
Emily @ Love, Pasta & A Tool Belt
Christine @ Foody Schmoody
Angela @ Lemoine Family Kitchen
Christine @ One Tipsy Chick
Jessica @ Savory Experiments
Teresa @ Crafty Wife