Welcome to The Wednesday Roundup #73! We are excited to have you here with us again! This week we'll be adding our latest posts and our Twitter profiles too. Find a few new people to follow and pick up a few new followers too!
Our most clicked post last week was #37
How I more than tripled my pageviews in just two months
from Emily at My Love for Words
Facebook | Twitter | Instagram | Pinterest |
If you've been featured, make sure to grab a button to show off!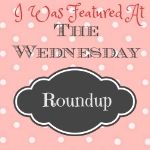 Britney @ The Princess & Her Cowboys
Emily @ Love, Pasta & A Tool Belt
Christine @ Foody Schmoody
Angela @ Lemoine Family Kitchen
Christine @ One Tipsy Chick
Jessica @ Savory Experiments
Teresa @ Crafty Wife